Joint Pain Treatment with "Kairtis"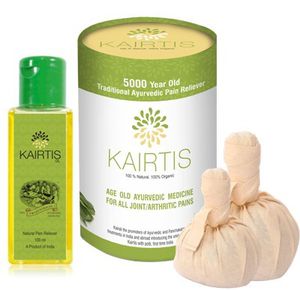 Revolutionary breakthrough: A NO SIDE EFFECT Ayurvedic Therapy for treating Joint Pains
Driving in Delhi isn't an easy task anymore. Boarding a metro or bus is like a marathon task. Women post deliveries develop many issue and the major ones include knee pain. Joint aches are not limited to people beyond 50 anymore. Everybody… mind it everybody is exposed to a risk of having joint pains… why wait for it to hit you…better to prevent ut rather getting it cured. A miraculous product from the house of 'KAIRALI' is here as your savior… "Kairtis", a 100% natural and ayurvedic remedy..to make you live life pain free.
'Kairtis' is a medicated oil with Potli (Kolakulathadi Choornam) pack, an ayurvedic medicine inspired by a 5000 years old ayurvedic pain relief procedure. The product is helpful in all types of joint related pains, arthritic pain and body aches and is suitable for all age groups
Abishek Ramesh, Executive Director, Kairali Ayurvedic Group, further explains, "We have developed Kairtis after noticing the escalation in bone & Joint disorders over the years. Kairali has treated many cases effectively at its centres and resorts Worldwide. It is specially formulated as an anti- inflammatory and analgesic. We are very confident of the results and know that consumers will come to trust & love this product like we at Kairali have come to."
'Kairtis' is a home remedial therapy, which means patients can avoid visiting hospitals and get the treatment done within the comfort of their homes. Instead of going to a therapy centre and spending exorbitantly you can now have these services at your home for Rs.280. This age old, proven ayurvedic medicine for joint pains has zero side effects and starts showing the result from the very first application. The Kairtis application mainly lubricates the joints and provides them a pain free movement.
With years of rigorous in-house R&D, the treatment has been proven to be effective for long term pain management.
For more information please visit: www.kairtis.com
About Kairali Ayurvedic Group
Kairali established its first treatment centre in New Delhi in the year 1989.
Kairali Ayurvedic Group was established on solid ground of Ayurveda research. Since its inception in 1989, by Mr. K.V. Ramesh and Mrs Gita Ramesh, Kairali has built on the achievements of its forefathers, developing its product infrastructure to make a diverse range of Ayurvedic medicines. These 100% natural and Ayurvedic products are available to a multi-national audience through 35 centers in 10 countries and a chain of chemists spread across Delhi-NCR. Recently the World Travel Awards recognized Kairali's "The Ayurvedic Healing Village" as the "India's Leading Spa Resort".The treatment centres can now be found throughout India, and also is an industry favorite for education and staff training on Ayurveda.
To be informed of the latest articles, subscribe: