Parent's Awareness Month An initiative for Early Detection of Kidney Diseases in Children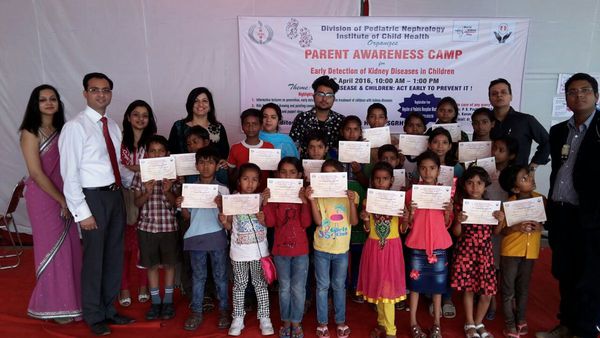 On the occasion of "World Kidney Day", the Division of Pediatric Nephrology, Institute of Child Health, Sir Ganga Ram Hospital have launched a first of its kind, one month long awareness campaign for the parents so that they get to know about the early symptoms for detection of kidney diseases in children. World kidney day 2016, targets kidney diseases in children. Kidney diseases in adults are much more common compared to children and thus childhood kidney diseases get overshadowed. They are different from adult diseases in many ways and sometimes result in being a cause for adult renal diseases.
Tenth march 2016 was celebrated as World Kidney Day with this year's theme being 'Kidney Disease & Children. Act Early to Prevent It!' To spread the awareness among the masses the team at Sir Ganga Ram Hospital have started this month long campaign, where they have organized daily free OPDs, with multiple informative lectures for doctors and patient care givers. At the end of the month, to sum up the whole initiative they have also organized a Parent Awareness Camp on 10th April 2016 which was addressed by Dr.P.K. Pruthi, Director & Senior Consultant - Pediatric Nephrology and his team. He said that "Early detection of kidney diseases in children with apt timely management is the key to maintain long term kidney health." He also emphasized on the issue of renal stones in children, which is on a rise due our unhealthy lifestyle. An information booklet was also released in this respect.
The parents and caregivers present at the event got the chance to learn about various issues like how does kidneys function, how one can detect childhood kidney diseases at an early stage - even before the child is born, kidney stones in children, bedwetting in children and diet to keep the kidneys healthy. The parents interacted with 8 doctors and dieticians of the pediatric nephrology team to clear all their doubts. The campaign also included a theme based drawing competition and magic show for the Kids present at the event. As per Dr.Kanav Anand, Consultant Pediatric Nephrologist, Sir Ganga Ram Hospital who dealt with the topic of bedwetting or nocturnal enuresis in children, said that about 85% of children develop complete day and night time urinary control by 5 years of age. As the children grow older, more and more attain dryness and the percentage of them wetting the bed reduces to just 1% by 15 years of age. Normally it's a self limiting disorder, but in case children have day-time symptoms like increased urinary frequency, urgency, hesitancy or poor urinary stream, they should be brought to the doctor for consultation at the earliest as such children may be having a more complex kind of bed wetting called as non mono symptomatic enuresis. Timely treatment with motivation, alarms or drugs can go a long way to safeguard the kidneys and prevent any long term complication like kidney failure.
To conclude, there needs to be an increased awareness regarding kid's kidney health for their own well being as children as well as when they grow adult, as the seeds of a lot of adult kidney disorders are sown in the childhood. If we look at the bigger picture, such small initiatives at childhood level go a long way in reduction of the global load of adult renal failure patients.
To be informed of the latest articles, subscribe: